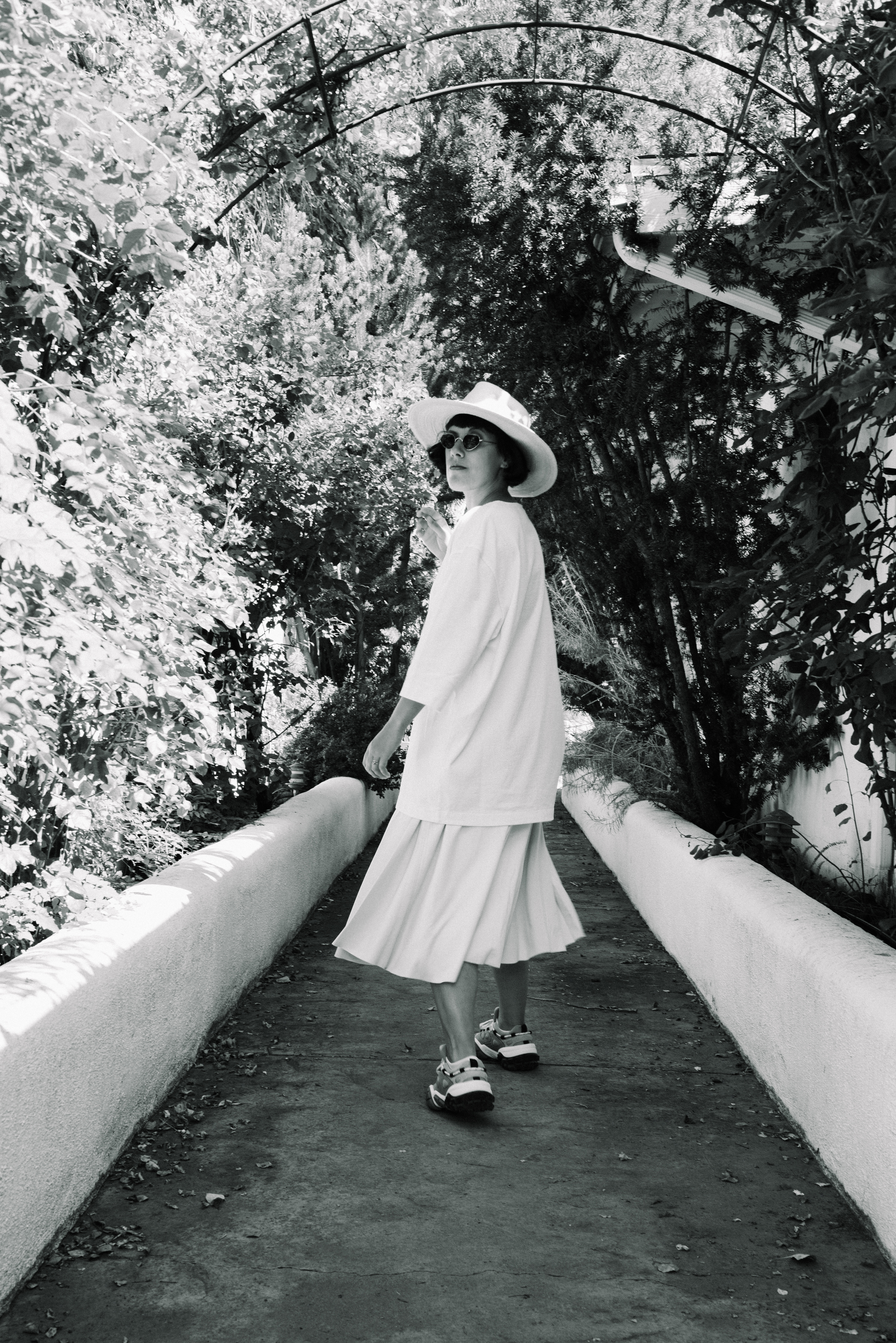 is just perfect to spend an amazing & relaxing time in Santa Fé, New Mexico.
ACNE STUDIOS pale yellow full circle jersey skirt // COS oversized T-shirt // Handmade hat bought in Austin, Texas // ACNE STUDIOS technical chunky sneakers // DRIES VAN NOTEN sunglasses
Pale yellow has definitely been one of my favourite colors this Summer and I'm so happy that some of my so loved brands such as Acne Studios and COS have been launching a few pieces in this color. It matches beautifully with neutrals and whites making a perfect and fresh color combo.
I have to confess I was quite concerned about this Acne Studios jersey skirt and thats why it took my so long to buy it. It's a full circle skirt made in a jersey fabric which for those of you that don't know, jersey fabric is way more risky to pull threads than a woven fabric. Adding on the fact that it has a raw edge hem. I was just imagining myself siting on a chair somewhere and getting it all ripped off. Headache! At the end I didn't resist and I ended up buying it when sales just started in May and I could finally justify myself. I bought 2 sizes down from my usual size (it fits pretty big), I always watch out where I sit and I wash it my hand. If you love it you got to take good care of it and make it last!
Around the 4th of July holiday we planed a Southwest road trip. It was just the perfect timing and we had been planning on it for a while by then. We did Nashville, Memphis, New Orleans, Austin and ended up in Santa Fé in 10 days all by car. It was tight, yes, and we could have done it shorter but I just couldn't imagine not to do Santa Fé. I was so drawn by the architecture and landscape (the desert… again! You know me) so we just went for it. We did it! And you know what, I am so grateful and happy that we did. Loved every bit of the way. It was wonderful! We loved every place we visited, so different from each other and so beautiful but I have to confess Santa Fé just took my heart. WE LOVE IT!
We stayed at El Rey Court (which I had been following on Instagram for a while and couldn't miss) and we had the best stay we could which for. The place is amazing so we couldn't resist to shoot a few photos around there. This color combo was just perfect for the desert and I feel like I'm just matching the architecture of the place.
I promise to post more about Santa Fé and El Rey Court in another post. In the meantime you can check out my Instagram for more.
At El Rey Court, Santa Fé, photography by Jacobo Campos.